After a decade of substantial development, the contribution of Western China to the country's paper industry has begun to show. Although Eastern China remained as the key region accounting for 69.6% of the country's overall production in 2021, the share of Western China rose to 11.9% in the year, according to China Paper Association's 2021 Annual Report. From only 6.35 million metric tons in 2012 to 14.43 million metric tons by 2021, output grew 127% from Western China in the decade or on a 10% annual average increase! Most remarkable came in 2021 when output of the region surged 28% from the previous year and proved its solidity and substantiality in growth.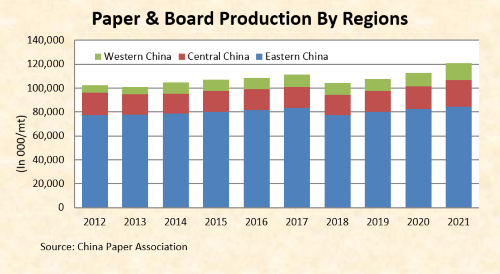 The western region of China consists of twelve provinces, autonomous regions and municipalities, including Guangxi, Sichuan, Yunnan, Guizhou, Shaanxi, Gansu, Qinghai, Ningxia, Tibet, Xinjiang, Inner Mongolia, and Chongqing Municipality. Although the territory is vast, the natural environment and geographical conditions are complex and diverse, especially the treacherous mountains and rivers in Yunnan, Guizhou and Sichuan and the barren deserts in the west out of Yangguan are more discouraging, becoming a barrier to the economic development of the western region for thousands of years. However, with the extensive completion and opening of highways and railroads in the region in the past ten years, the rift valley has become an open road, which has made a solid pavement for the economic development of the region. This has attracted many paper companies to invest in the region to set up factories, taking advantage of the rich local natural resources and increasingly prosperous market, becoming a strategic choice for the long-term development of enterprises, and even the future of the industry as a whole.
Today, not only industry leaders have large packaging board production and converting facilities in the region, many mid-size paper companies also have their own target options. In Guangxi alone, pulp and paper production capacity will expand more than 25 million metric tons, should all the announced projects be completed and commissioned in the next five years! The rich raw material resources in the southwest region, especially tree and bamboo forest, are increasingly favored by papermakers and are being widely developed and utilized as superior fiber for pulp and paper production. Market analysts believe that in the next ten years, the paper industry in the western region will continue its rapid development. In particular, wood/bamboo pulp, tissue paper, packaging paperboard and specialty paper will become core products of paper companies in the region.