(www.chinapaperonline.com) China's paper grade pulp consumption fell to 93.87 million metric tons in 2018, -6.61% from the previous year, according to the annual report from China Paper Association (CPA). Recycled pulp consumption, the largest by sector, tumbled -13.15% to 54.74 million metric tons, against to a +4.82% increase to 33.03 million metric tons in wood pulp consumption.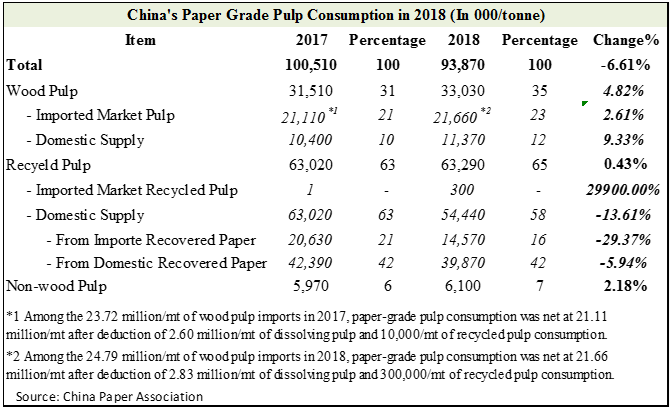 The negative trend in newsprint and printing/writing paper production and consumption added to the general economic slowdown of the country that played a key role in the country's changes in pulp consumption. Huge declines in China's recovered paper imports - the main fiber source in recycled pulp production that was put under strict import quota and inspection at destination ports – resulted in a significant loss by -29.37% in recycled pulp production using imported recovered paper in 2018, but this did not cause panic as a result of falling demand. Further, a +9.24% rise in the country's wood pulp production and +2.61% increase in paper grade wood pulp imports helped ease temporary tightness in the market, if any, during the year. While wood pulp consumption growing from 31% to 35%, the share of recycled pulp consumption shrank from 63% to 58% in the total pulp consumption in a 12 month period.
It is expected that China's recycled pulp production will continue its decline into 2019. With more closure of small mills as a result of environmental scrutiny and relocation of some mid-to-large mills to neighboring Asian countries, China's domestic paper-grade pulp consumption, either virgin or recycled, will not grow from the existing level in the next few years.