(www.chinapaperonline.com) Following the declines in both production and consumption in 2018 from their peak in 2017, China's paper industry continues the negative trail in 2019. In his speech at an industry forum in mid-November, President Wei Zhao of the China Paper Association (CPA) forecasted that the country's paper and paperboard production in 2019 would shrink to 103.70 million metric tons, -0.6% from 2018 and consumption would fall to 102.60 million metric tons, -1.7% at the same time.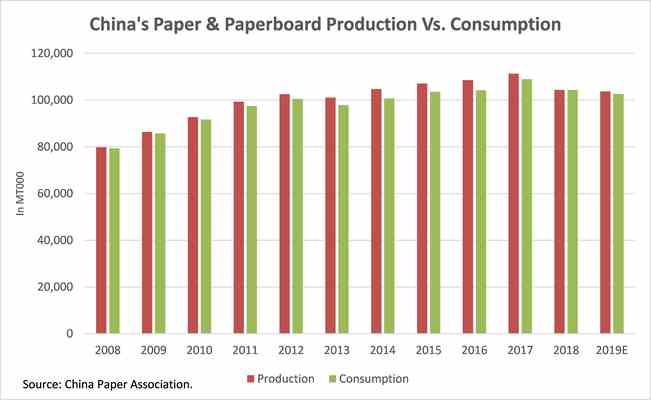 He cited factors driving the industry performance down. These included:
1) General market uncertainties and lack of confidence significantly lowered industry core revenues by -7.6% from a year ago to RMB977.5 billion (US$139.64 billion) and earnings down by -26.1% to RMB43.7 billion (US$6.24 billion) in the first nine months of 2019. At the same time, the number of under-performing companies rose +13.7% from that of 2018 to 1,300 and accounts receivables surged +31.7% to RMB225.8 billion (US$32.26 billion)!
2) Sleepy pulp market and enhancing environmental scrutiny made pulp producers in China more cautious and geared down production by -8.1% to only 9.68 million metric tons in the nine month period.
3) Changes in fiber cost and competition affected sales and earnings of all producers.
4) Declines in recovered paper supply and rising demand for quality resulted in more imports of packaging paperboard than exports.